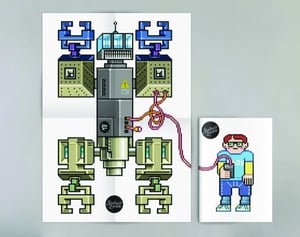 £

2.50
------------------------------------------------
The inaugural issue of ShellsuitZombie magazine!
Packed full of interviews, goss and nonsense from a graduate perspective, we aim to be the young voice of the creative industry.
What you get:
- An exclusive Eboy cover and fold-out poster
- Articles on topics such as: Moustaches, Cake, Can D&AD play pool, Glug, 'Industry Ready?' Idea vs Execution, nudity, people-watching, mums on facebook and many more from contributors including Adrian Shaughnessy, Sanky and Eboy as well as tutors, grads and students from all over the country.
- 64 pages of uncoated B5 waffle and a shellsuitzombie sticker.
------------------------------------------------
'Cheeky, but to-the-point ... witty and eccentric' - Design Week
'Completely unapologetic' - Stack
'raw but refreshing ... with no lack of attitude' - MagCulture
'Quite interesting' - D&AD
------------------------------------------------
------------------------------------------------