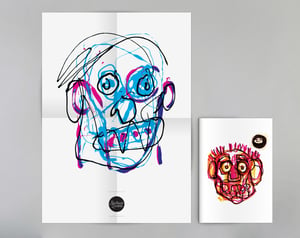 £

0.01 - On Sale
Our second issue is out now! Here is some of what you'll get.
In this issue you'll find interviews with those behind the Creative Review Twitter account, design legend Vince Frost and Dave Brown (AKA Bollo from the Mighty Boosh). We also have an exciting account of the tale of Placement Man, who loves the placement you hate, and bits about copywriting and self promotion too.
As well as that serious stuff there's creepy love letters to Natalie Portman, stories about cats and weetabix, a poem about stalking and a bear having a piss.
60 more pages of delicious content and an exclusive cover and foldout poster by the one and only Noel Fielding. And a ShellsuitZombie sticker.
You'd be an idiot to miss it.
-----------------------------
'Cheeky, but to-the-point ... witty and eccentric' - Design Week
'Completely unapologetic' - Stack
'raw but refreshing ... with no lack of attitude' - MagCulture
'Quite interesting' - D&AD
-----------------------------